May 2016 saw us working on one of our most prestigious projects to date; the Leicester City End of Season Players Awards.
Fresh from winning the Premier League, LCFC commissioned us to supply and install 60 LED panels made into 4 screens, each 4m x 2m for the event.  We used P3.9mm Gloshine products to great effect, creating a sophisticated backdrop to the evening's proceedings.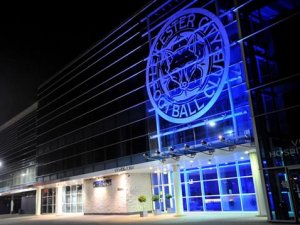 Throughout the course of the awards, the screens featured video of the players in action on the pitch, branding, and images.  Our expert team of video operators were on hand to control elements of the running order of the screen's content.  All visuals coordinated with the presentation of various awards to the players.
Using the Roland HD40, we were able to give a highly professional, slick and streamlined presentation to the content displayed. Synchronisation of key messages, audio, and video footage was key.
The installation of the screens took the team just 3 hours in total and remained for one night only.  The impressive event was also broadcast live from the King Power Stadium in Leicester.  Get in touch and see how we can work together on your next event.
Want to see how the install was set-up?  Take a look at our time-lapse video below: