We've been fortunate enough to work at several weddings across the UK in 2016, from Lampeter in Wales, to Stratford Upon Avon and beyond.  Weddings are something we love doing, and it's always a privilege to be part of our clients special day.
For us, the best part about being commissioned to supply sound and lighting for weddings is the fact that we're able to work closely with the bride and groom to discuss, create and ultimately deliver the ambience that they want for their day.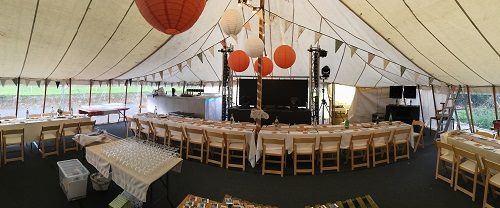 From supplying video walls that we're able to programme with any graphic, message or animation their hearts desire, to installing second-to-none sound equipment for that all important first dance (and the after party of course!); we're able to transform any venue into the sound and lighting experience of our couples' dreams.
Big trends for weddings this year have included the use of photo booths to capture all of those hilarious propped group shots, huge sparkling LOVE and MR & MRS lights that really make a focal point, and LED video walls adorned with messages of love and happiness, with beautiful graphics to match, specifically written to our clients tastes and needs.
We're always looking to offer our wedding customers the best package we can, both in terms of budget and requirements.  Reviewing our most popular products for these events has allowed us to create the following package, and if you book before the end of November 2016, we'll give you 10% off your booking!  Well cheers to that!  All you need to do is quote the promo code Love Is All You Need when booking, and we'll send out an invoice with your discount there and then.
Don't forget though, we are totally flexible in our approach and want to make your wedding day as special as you are.  If you have specific requirements or want a package building just for you, talk to us!  We're more than happy to create a package built on your exact needs.
Love Bundle Wedding Package
LED video wall
Funktion One sound system
DJ for the night
LOVE or MR & MRS illuminated letters
Photo Booth for the day
Lighting
1750.00
10% discount when booking before the end of November 2016, quote promo code Love Is All You Need when booking.