To stay at the forefront of your industry, it's imperative to deliver an engaging and memorable experience to attendees at your events. Whether it's a festival, gig, corporate event, exhibition or conference, the audiovisual landscape is more buoyant than ever – allowing you to deliver a real 'wow-factor' and keep everyone talking long after they leave.
2018 has been a fantastic year for AV so far, with loads of significant brands announcing innovative new products which guarantee to give an edge to any event's audiovisual setup. Here are 3 of our favourite latest AV product releases:
STRIKE P38
Customers have long been impressed by the versatility of the Chauvet Professional STRIKE series – but the P38 gives them even more reason to love the range. The compact, punchy, outdoor-ready blinder can be used to create an immersive atmosphere in arenas or outdoor concerts. Powered by a 90 W warm white LED source, the P38's emulated 'amber shift'can warm the colour temperature, dimming to mimic incandescent lights perfectly. It excels as a blinder but is also cool enough to be used as a wash, audience light, or strobe – an incredibly useful piece of kit!
RUSH BATTEN 1 HEX
The new Martin RUSH stage lighting fixtures have had an incredible response. A strikingly bright, 12-cell batten colour & UV wash fixture, the RUSH BATTEN 1 HEX can provide intense light for colour, white, or black light applications. Designers can achieve a range of amazing looks thanks to the available pixel mapping of individual LEDs and a removable diffuser lens which increases the beam angle from 25° to 32°. It's perfect for live shows, for use on stage, at concerts, festivals and nightclubs – we love it.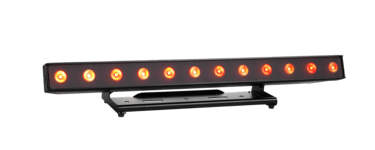 MAGIC FX CO2JET II
Want to surprise your audience? This is the one to try! This easily installed CO2 jet creates a fantastic effect which adds to the atmosphere of any event – but looks especially amazing at gigs and music festivals. The cannon can be turned in any direction and can be coupled to large CO2 tanks – so it can be used for hours on end without needing to be replaced. This is the second generation of the famous product – it's smaller, quicker, rainproof, and powder coated for outdoor use.
What great products! We're excited to see what the rest of 2018 has in store for the audiovisual industry. Here at Sound Light & Laser FX, we're passionate about all things AV and supply sound, light and special FX equipment to a range of events across the UK. Whatever your requirement, we can help you create an incredible, immersive and memorable event – so get in touch with us today to see what we can do for you!